KISS/Aerosmith Tour News
March 22, 2003
From: http://www.eddietrunk.com/
Kiss will tour with Aerosmith starting on the East Coast in August. Kiss will open every show, and there may be a third act added. No new release except for the Symphony project at this time. Local dates include 2 shows each at PNC and Jones. Unless you hear otherwise, Tommy will be playing lead guitar dressed as Ace. The tour will last about 3 months. More news when I get it.
---
KISS Performs on Australian TV
February 25, 2003
From: http://www.kissfanclub.net/
(NOTE: I have this performance on Video CD. If you are interested in a copy, send me an email and we can work out a trade.)
Here are a few pictures of KISS performing on Rove TV. Click on the images to view them in full size.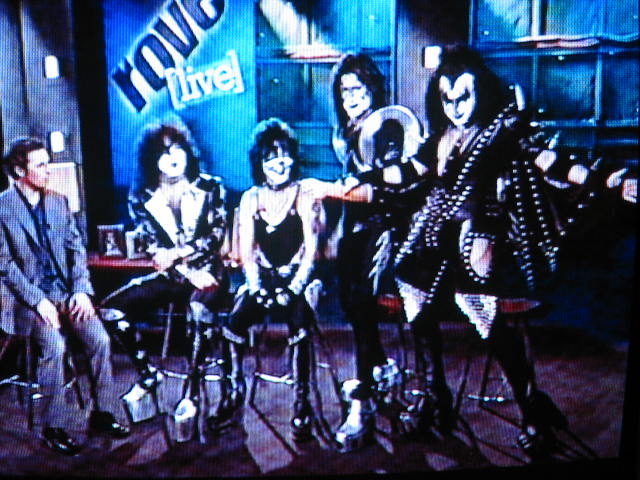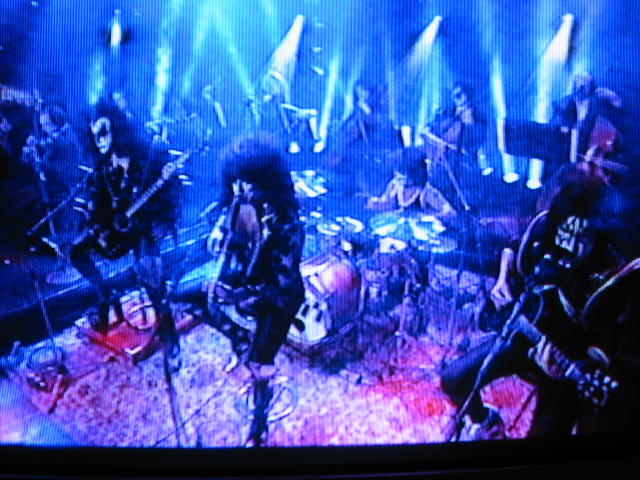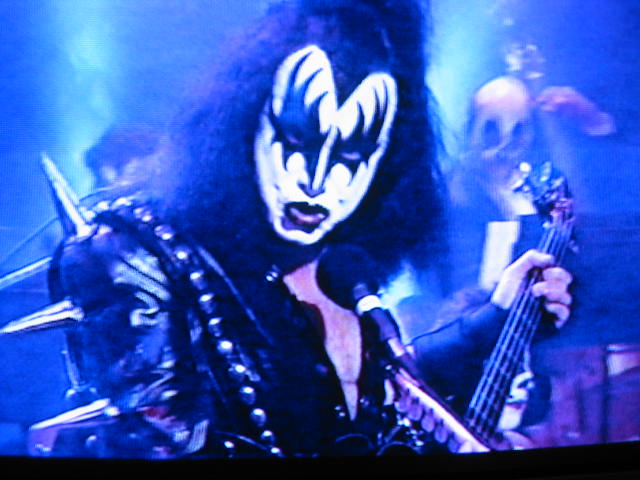 ---
GENE SIMMONS Re-Launches Record Label
February 2, 2003
From: http://www.genesimmons.com/
KISS bassist/vocalist Gene Simmons has officially re-launched Simmons Records and is currently seeking to sign artists in all popular music genres.
"As some of you know, Simmons Records existed in the 80's through RCA/BMG," Simmons writes on his official web site. "We released a few bands and did okay. I'm proud to say I have a new joint venture partner (to be announced soon). Details will be announced soon.
"If you know of local talent in your area and want me to hear it, send me stuff to:
SIMMONS RECORDS
PO BOX 15097
BEVERLY HILLS, CA. 90210
"POP - I'm looking for talent in their teens or early twenties. You don't have to write songs. But, you better have the talent. It can be almost anything.
"ROCK - If you're the coolest local band in your area, but you think you've got SOMETHING DIFFERENT, send me your stuff. You should be able to write songs.
"RAP - Sure. But, don't send me the usual 'MC Criminal' routine. Give me something different.
"COUNTRY? - Probably not straight country. But, if you're Shania in her teens, send me your stuff.
"I know there is talent out there that can't be put into a genre — I'm looking for you. If you're the next MOBY or PRINCE...send me your stuff.
"Do Not — call and ask what I thought of your stuff.... Do not call and ask when you can get our stuff back (you won't)... Do not call and ask for my opinions and advice... Just look at it the way a farmer plants his seed. If the fruit grows and ripens, you'll win. All the conversation in the world will probably not help. I just don't have the time to have one-on-one conversations with everyone. There aren't enough hours in the day. And, to be quite honest with you, most of the stuff is so far away from being marketable, that no matter what I say, the chances are slim. So, best to put your best stuff out there, and don't torture anyone with follow-up calls. If they (or I) want you, you can be sure we will be all over you.
"Again, I will NOT respond to submissions. Please do not take it personally."
In other news, the ever-busy Gene has announced several other new ventures:
"SIMMONS DVD, I'm proud to say, is a joint venture with the same entity," he writes. "Its releases will focus on visual projects I'm working on, like: GENE DOWN UNDER. I filmed the goings on at my recent Australian Lecture Tour. It was a lot of fun and that material will see the light of day by Spring.
"I've also got two other visual projects we've agreed to do. We will announce them soon.
"SIMMONS BOOKS is a joint venture with New Millennium (Stephen Hawkins' new book... Bill Maher's new book... Bob Evan 'The Kid Stays In The Picture'). I've just finished writing the first release and the initial layout pages look fantastic. The art department at NM are very talented and I think you'll get a kick out of it.
"It was a thrill to see my first book, 'KISS AND MAKEUP' become a New York Times Best Seller. You all seemed to like it and I appreciate it. I hope my new book will meet with your approval as well. Release is slated for April.
"I'm also working on two other book titles for later release. Details to follow soon.
"SIMMONS AUDIO is a joint venture with New Millennium that will release AUDIO books...like the first release: Gene Simmons reading his 'KISS AND MAKEUP'.
"Other celebs will be reading books in the future.
"GENE SIMMONS BASS AMPLIFIER — will shortly be available in music stores.
"I'm in negotiations with an amplifier company. And, if they get their act together, we can do this...or I'll simply do it with another company."
"THE FILM COMPANY (name to be shortly announced) is almost up and running. My partner and friend Rich Abramson and I have been working on it for some time and will announce details about projects in the near future.
"Do not send us scripts. We're swamped with projects and simply cannot get to new material."
---
Today IS KISStory!
January 30, 2003
From: KISSONLINE
30 years ago today KISS changed the face of rock and roll when they performed their first show at the Coventry in Queens, NY.
---
Sex, Money, and KISS
January 25, 2003
Here are details on the upcoming book Sex, Money, and KISS by Gene Simmons. Here's a picture of the book cover.
---
PAUL AT THE NAMM SHOW IN ANAHEIM
January 23, 2003
I came across a couple pictures of Paul an NAMM. Here they are: Number 1 & Number 2
---
KISS ANNOUNCE LAS VEGAS SHOW
January 23, 2003
Kiss have just announced another concert on their official website www.kissonline.com:
Palms Casino Resort, The Nine Group and Clear Channel Entertainment are very proud to announce THE GREATEST ROCK AND ROLL BAND IN THE WORLD
KISS
SUNDAY, MARCH 16, 2003
RAIN IN THE DESERT
8:00PM
Las Vegas (January , 2003) – On Sunday, March 16, KISS will perform a very special show in the intimate setting of the RAIN IN THE DESERT inside THE PALMS CASINO RESORT.
TICKETS ON-SALE
At 10am on Saturday January 25, tickets will go on-sale at www.ticketmaster.com, www.cc.com, and all Ticketmaster outlets. Tickets will also be available at Stuff inside the Palms Casino Resort. To charge by phone, call 702.474.4000. All tickets are subject to service and/or convenience charges. Tickets are priced at $125 and $300. For additional show information, please visit www.cc.com.
---
AEROSMITH, KISS SET TO ROCK 'N' ROLL ALL NIGHT
January 22, 2003
(from www.Billboard.com)
Aerosmith and Kiss will embark on a co-headlining North American tour beginning in August and running through October, sources confirm. The tour of approximately 40 dates will be produced by Clear Channel Entertainment and is expected to play 90% amphitheaters, with arenas and possibly a couple of stadiums also in the mix. Kiss will perform in full makeup, sources say, and Aerosmith will be touring in support of a new Columbia blues album.
"We want to really try to get everybody in a room at the same time," bassist Tom Hamilton told Billboard.com about the album last September. "It's funny because it triggers all of the competition and uncomfortableness that we've always had going into the studio, and it's going to mean everybody is going to have to be open, vulnerable, and brave, and go in there and do that process like we used to do it."
Aerosmith grossed nearly $40 million from touring in 2002. The group was recently nominated for the best rock performance by a duo or group with vocal for "Girls of Summer," drawn from last year's "O, Yeah! Ultimate Aerosmith Hits" compilation. Aerosmith has also signed on to appear at the Feb. 7 Salute to the Blues concert at New York's Radio City Music Hall.
As for Kiss, the group grossed more than $60 million from its 2000-2001 "farewell" tour. As previously reported, Kiss will join the Melbourne Symphony Orchestra for a one-off Feb. 28 concert at the city's 48,000-capacity Telestra Dome. The group has also scheduled a March 11-13 stand at Tokyo's Budokan Hall.
---
Ramones Tribute
January 10, 2003
The title of the new song KISS have recorded for the Ramones Tribute album (due to be released February 11 in the US) is "DO YOU REMEMBER ROCK 'N' ROLL RADIO". Gene and Paul share lyrics. The complete song is 3:34 minutes long and can already be found and downloaded on the Internet.
---
McArthur Convicted In Cusano Killing
From the Hartford Courant:
December 14, 2002
By TINA A. BROWN, Courant Staff Writer
A Hartford Superior Court jury convicted Gregory McArthur of felony murder, manslaughter, larceny and kidnapping charges Friday in connection with the 1998 death of AnnMarie Cusano, a secretary who secretly moonlighted as a prostitute.
But the jury acquitted McArthur of charges of murder, capital murder and robbery charges. The jury apparently was not convinced that McArthur had stolen Cusano's car, even though a convicted drug dealer testified McArthur had "rented" the car to him in exchange for cocaine.
The five-week trial had some dramatic moments: McArthur broke down three times and vomited in court when he was shown pictures of Cusano's remains. He also took the stand in his own defense, offering a riveting account of how he was robbed by drug dealers, who killed Cusano and dumped him on top of her body in a secluded area of Suffield.
The mixed verdict, which took more than four full days of deliberation, showed the jury believed McArthur, 42, of Hartford, had not intended to kill Cusano, 42, of Shelton, but did so as he kidnapped her or held her against her will, said Senior Assistant State's Attorney Gary Nicholson.
"I'm sure the family is going to be very satisfied with this verdict," he said.
McArthur threw his sister a kiss as he waved goodbye on Friday. He did not cry or break down as he had done three times during the trial that started Nov. 14. Cusano's twin 20-year-old daughters had attended part of the trial but were not there when the verdict was announced.
McArthur's sentencing is scheduled for Jan. 31, after a pre-sentencing report is completed. If he is given the maximum penalty, McArthur could serve life in prison.
Senior Public Defender M. Fred DeCaprio argued repeatedly that the prosecution had not proved that McArthur was the killer. Those arguments apparently were troublesome to the 12-member jury, who asked 15 questions about the law.
The jury repeatedly asked Judge Joseph Koletsky to explain the definition of intent, kidnapping and finally felony murder. Twice the jury asked what steps they should take if they could not come up with an agreement on a particular charge.
After the verdict, David Smith, another public defender, declined to comment on the outcome. He also would not characterize the jury's decision. "I think this jury worked extremely hard."
Cusano, the former wife of Kiss guitarist Vincent Cusano to whom she was married in the early 1980s, was reported missing by her twin daughters, who were aware of her secret life. Almost immediately, Shelton police fingered McArthur as a suspect because the Hartford man reportedly was her last date in January 1998, according to telephone records from the escort service.
In September 2000, police interviewed McArthur for more than 17 hours. He confessed to the crime and led investigators to the body.
His mother was not present for the verdict but said earlier that her son "was a good child."
During court recesses, McArthur's mother, who asked not to be identified, showed off her son's report cards and basketball certificates from Plainville High School, which he attended as a Project Concern student. McArthur's records show he had once earned A's and B's and obtained O's for outstanding conduct, she said.
---
PAUL STANLEY Reveals More Details
About KISS SYMPHONY Concert
From blabbermouth.net
Dec. 11, 2002
KISS guitarist/vocalist Paul Stanley has revealed more details about the group's upcoming Kiss Symphony concert in Melbourne, Australia on Feb. 28, 2003.
The one-off show — which will be filmed and recorded, and broadcast via pay-per-view around the world — will open with the band performing "a short set by ourselves, [followed by] a set with a string quartet, and ten or so songs with the full orchestra," Stanley stated. "We will mix up makeup and non-makeup songs and try to get a balance that pleases the greatest number of fans."
While there has been no confirmation yet that guitarist Ace Frehley will make an appearance at the show, Stanley has made it clear that the concert will go on with or without Frehley's contributions, much to the dismay of many KISS fanatics who have been longing to see the original lineup in action again.
"Concerning this issue, I've heard enough opinions, both pro and con, and it IS enough," Paul stated in response to a question about the group's legitimacy without the four original members. "No decision is up to ANY one, two or three members. Even if three members DO make a decision we are powerless to force anyone to go along. Dealing with personalities and how someone views reality, is a problem that isn't unfamiliar for us. So life, as we will all experience, is far more complicated than we might hope. Again, to people on both sides of the argument, you have been heard. It's time to move on."
---
Ace's status with KISS
From eddietrunk.com
Flooded with people from all over the world asking about the status of Ace and Kiss. As you all know, I am friends with Ace and am a huge Kiss fan and supporter. I do not however have anything to do on any professional level with Kiss or Ace's business. That being said, I asked Ace a few days ago what the deal was with him and the upcoming Kiss tour and Australian show. Simply put, Ace is not a member of the band at this time. He asked that I let the fans know that he has no plans at this time to rejoin the band, and his contract with them ended after the Farewell Tour, which he also thought was the end at the time. Ace is upset that Kiss announces events, and holds press conferences for events, then asks him if he wants to do them after the fact. He claims he was just recently contacted by the band and even told about a tour and concert in Australia. He feels totally left out of the loop and does not believe this is the way a band should function. So as it stands now, Ace does not plan on rejoining Kiss for anything. That being said, we have all seen how things can change with the Kiss camp, but that's where it stands as of now. Ace may be on with us soon to talk about this further, but for now, he is still working on music for a new solo album for next year. I do not wish to judge or debate anything with Kiss, I am just reporting the facts as I have heard them this week from Ace.
---
KISS to play in Japan
KISS will play in Japan! It was announced today on the UDO web site (http://www.udo.co.jp/artist/kiss/index.html). Dates are listed below, but no mention of who will be in the band was mentioned.
Dates are as follows:
Tue 3/11 TOKYO:BUDOKAN START 7:00PM
Wed 3/12 TOKYO:BUDOKAN START 7:00PM
Thu 3/13 TOKYO:BUDOKAN START 7:00PM
PRICE/S:9,500yen A:8,500yen (tax incl.)
Advance sales start on December 5~11, with general sales starting on 12/14.
[The question is, is this the start of the 30th Anniversary Tour, or something special like Melbourne? (from Ben W.)]
---
Update on the trial of the murderer of Vinnie Vincent's ex-wife
Jury Hears Defendant's Taped Confession
November 23, 2002
By TINA A. BROWN, Courant Staff Writer
In a 17-hour interview with police two years after AnnMarie Cusano was reported missing, Gregory McArthur confessed on tape to having a deadly fight with the part-time prostitute.
Cusano, who was used to serving well-to-do customers, told McArthur that she wasn't comfortable staying with him at his rooming house, according to McArthur's confession, played in its entirety Friday in Hartford Superior Court.
McArthur, 42, said that he and Cusano argued because she wanted to leave his one-room apartment on Prospect Avenue in Hartford. She refused to take his money.
And, then they fought for five to 10 minutes. At some point, McArthur told former Hartford homicide Det. James C. Rovella, he held Cusano in a headlock and when he released her she collapsed.
"She just collapsed. She wasn't breathing anymore," McArthur said in his confession. Afterwards, McArthur said he panicked, sat down to think and smoked a hit of crack cocaine. He drove her red Mazda around the back of his apartment, carried her body down the stairs and dumped it into the trunk. Rovella said McArthur dumped Cusano's lifeless body in a secluded place off of Boston Neck Road in Suffield.
Cusano, a 42-year-old secretary from Shelton, was reported missing by her twin daughters on Jan. 2, 1998. A day later, Rovella said, McArthur became the "main target" of the police investigation because her boss at the escort service said McArthur was her last known date and bloody clothing was found in his apartment.
The interview, Rovella said, started at 12:30 p.m. Sept. 1, 2000, and ended after McArthur taped his confession about 5:30 p.m. the following day. During the interview, McArthur ate fast-food meals with the police and waived his constitutional rights four times.
McArthur was charged with murder, felony murder and first-degree robbery after he confessed and led police to Cusano's body. If convicted, he faces life in prison without the possibility of parole.
Rovella testified McArthur told him that he took Cusano's car to East Raymond Street in Hartford's North End, where he traded it for crack cocaine. He said he had gone through her purse and taken $30, her bank card and an American Express credit card that belonged to Kiss guitarist Vincent Cusano, to whom she was married briefly in the early 1980s.
McArthur unsuccessfully attempted to withdraw money from an automatic teller. It was not clear whether he ever used the credit card.
Rovella said McArthur told him that family members cleaned his apartment and he stayed with an aunt and cousins.
At some point, he sustained numerous small stab wounds in the back. It remained unclear, Rovella said, whether McArthur was wounded during the fight with Cusano or in a struggle with a drug dealer to whom he owed money.
Rovella said McArthur gave two versions of how he was stabbed. He also said that while he was choking Cusano, she bit him on the hand.
The trial resumes Monday with a cross-examination of Rovella by Senior Public Defender M. Fred Decaprio. The defense is scheduled to start its case Wednesday. Superior Court Judge Joseph Koletsky is presiding.
---
MEET PAUL STANLEY & GENE SIMMONS OF KISS!
From KISSONLINE
November 26, 2002
TUESDAY, DECEMBER 3 AT 6PM
VIRGIN MEGASTORE UNION SQUARE
NEW YORK CITY
(14th & Broadway)
To reserve your spot in line to meet Paul and Gene, purchase a copy of KISS: THE EARLY YEARS at Virgin Megastore Union Square, beginning at 9am on Tuesday, 11/26 to receive your V.I.P. pass for this exclusive event.
Passes are limited, one per customer. Paul and Gene will only be signing copies of the new book.
---
KISS Joins with Melbourne Symphony
for Event Spectacular
From KISSOnline.com
Media Release
Monday October 21
One of the world's greatest bands KISS today announced one of the most spectacular concert events Australia will ever see, KISS SYMPHONY.
At a press conference in Melbourne, Gene Simmons, Paul Stanley and Peter Criss announced details of a one-off concert with the 60 piece Melbourne Symphony to be held at Telstra Dome on February 28, 2003.
The event, which has been months in planning, will celebrate the band's 30th anniversary, and will be filmed and recorded, and broadcast via pay per view around the world.
"When the Melbourne Symphony teams up with KISS, I promise the result will be no less than a symphonic sonic boom", Paul Stanley said today. "Beethoven and Mozart will rise up dancing with fists raised as we unleash a spectacle that will be both classic and classical. This time it's black tie AND black leather."
The idea for the event came from the office of promoter Andrew McManus, who toured the band in Australia 18 months ago.
"Once the idea came to us and we presented it to the band, they were in all guns blazing from day one. This will be undoubtedly one of the most incredible concerts Australia has ever seen and will reach fans all over the world, " McManus said. "On their last tour we sold more KISS tickets in Melbourne than in any other city, and that combined with the faciilities at the Telstra Dome led to the decision to hold the concert in Melbourne."
The marriage of KISS music and the Melbourne Symphony which we will hear on February 28 will be the result of months of work by conductors, arrangers and musicians, which begins shortly.
At today's press conference, 14 members of the Melbourne Symphony performed two songs "I Was Made For Loving You" and "I Wanna Rock'n'Roll All Night". Adorned with full KISS makeup whilst they played, it was a spectacular moment and an appetising teaser of what is to come!
Trevor Green, Managing Director Melbourne Symphony, said "KISS SYMPHONY is a fantastic opportunity for the Melbourne Symphony to demonstrate its versatility, broaden its appeal and reach a different audience. This is an exciting collaboration that will produce lots of energy and a big sound. We are thrilled to be involved with this international event."
The Melbourne Symphony has performed with Elton John, John Farnham, Ray Charles, Frank Sinatra and the Three Tenors and is acclaimed internationally.
The legendary KISS army fans from around the world are already making plans to travel to Melbourne for KISS SYMPHONY.
TICKETS ON SALE FRIDAY NOVEMBER 1 at ticketmaster7.com.