Welcome
EVANSVILLEKISS.COM is my way of showing my appretiation of KISS' influence on my life. I have loved every KISS lineup thru their entire career. With the exception of 2 albums, I love every KISS album ever released. For me, it's all about the music. I could give a shit less about the merchandise or any other crap that has nothing to do with the music that's made me happy since I was a little boy!
---
Featured Photo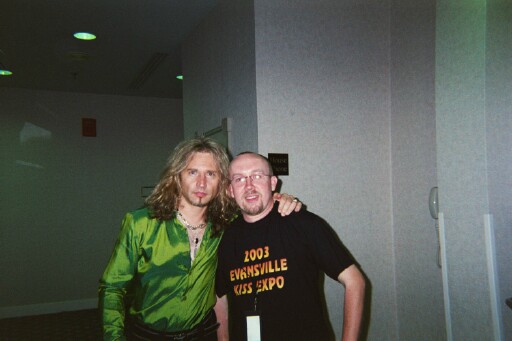 Eric Singer and me at the Evansville KISS on June 7, 2003.
---
---
The Evansville KISS Expo 2002 was a smash! Check out my photos. For those that were asking about buying Expo T-Shirts, go here.
Contact Me

Copyright © 1998-2003, Allen D. Tate. All KISS Logos are copyright © KISS Catalog, LTD. These files are for reference and entertainment, not to be sold for profit. This site is a non-profit fan based site. This site was established August 1, 1998 and was last updated Tuesday, 12-Aug-2003 21:43:09 EDT.
Web Site Design by Custom Web Pages.