KISS - Rock The Nation (My Review)
Starwood Amphitheatre
(Antioch) Nashville, TN - July 2, 2004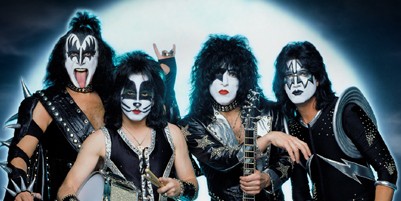 I went to the Nashville show and I was very pleased with all 3 bands. I'd never heard of ZO2 before that night but I was impressed. The only thing they did that made me grit my teeth was when the bassist started that slap/funk shit. I hate that so much. Other than that they were a very good trio.
I've liked Poison from their beginning days and had only seen them once in 1992 and had forgotten how much I enjoyed them. Yeah, they're posers but I still like them and I was pleased that they stuck to the songs I liked the most. I wish they'd have done the Instant Live recording as well. I would have plunked down my money for a copy of their set.
KISS just friggin' rocked. It was great to see Eric up there fitting in so well and looking like he just belonged there. It was my first Tommy experience and I was overall satisfied. He definitely isn't Ace but at least he wants to be there, unlike Ace. I respect Ace's decision to leave and I really hope he is getting his life in order and taking care of himself, both physically and mentally. Gene forgot the beginning verse to War Machine and made my night. I think it's the first time he's botched a song at a show that I actually attended. Paul was really on top of his game but I wish he'd stop flying out into the audience. That's getting old. :)
I had not planned to go until I saw that they really were mixing up the setlist. I took my boy for his 8th birthday and he got to see boobies. A week later he's still talking about it. HAHAHA!
(Review written by Allen Tate on July 10, 2004)
Disc 1
1) Love Gun
2) Deuce
3) Makin' Love
4) Got To Choose
5) Lick It Up
6) I Stole Your Love
7) War Machine
8) Christine Sixteen

Disc 2
1) I Want You
2) I Love It Loud
3) 100,000 Years
4) Unholy
5) Shout It Out Loud
6) I Was Made For Lovin' You
7) Detroit Rock City
8) God Gave Rock & Roll To You
9) Rock & Roll All Nite

KISS

Starwood Amphitheatre

Antioch, TN

July 2, 2004