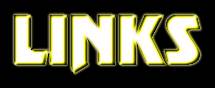 Links last updated Sunday, 14-Mar-2004 18:31:02 EST.
OFFICIAL SITES
KISSOnline is the official KISS website. It also offers the latest KISS news as well as FAQs and anything else related to KISS. You can also become a member of KISSOnline for free.
Bruce Kulick's Virtual Studio - Bruce Kulick's Virtual Studio is all Bruce all the time. It keeps you up to date on everything going on in Bruce's busy schedule.
The Official Eric Singer Home Page (newly "remodeled" by the guy who runs KISSFreaks.com)
The Official Eric Singer German Home Page - This site gets updated regularly.
The Official Peter Criss Web Site
GeneSimmons.com is where you can find whatever Gene wants to talk about.
TRIBUTE BAND SITES
Almost Human - Based in Evansville, Indiana are a non-makeup band that plays more of the "obscure" songs from the KISS Catalog.
KISS Alive call themselves Chicagoland's authentic KISS Tribute band. They were the tribute band I chose for the 2002 Evansville KISS Expo. They have since replaced their Paul & Peter and they are even better than they were before.
Shock Me is based in Virginia Beach.
Mr. Speed Mr. Speed are based in Cleveland. I've seen them play at the Indy & Louisville KISS Expos. They're pretty decent.
Hotter Than Hell bill themselves as the official reincarnation of KISS. They'e based in Vancouver, BC.
Dressed To Kill from New York City.
Kings Of The Night are a KISS Tribute band based in Chicago, IL.
Black Diamond are an all girl KISS Tribute band based in Ohio.
KISSTROYER is out of Melbourne, Australia.
KISSTORY is based in Atlanta, Ga.
KISSTORY (Belgium) Belgian KISS-tribute band.
MERCHANDISE SITES
Fanfire.com sells more than just KISS merchandise online. If you follow this link and buy stuff, I (supposedly) get a small comission! ;)
KISSshop.com is based in Indianapolis and the gang that runs it organizes many KISS Expo's in the US. Visit kissexpos.com to see if there's an Expo coming to a town near you!
FAN SITES
KISSfiction - The KISSfiction website was designed to follow Colette Shaw's progress as she strives to fulfill her rock 'n' roll literary fantasy.
Charlie's Rock Bottom KISS Page - Dedicated To The "Masked" Era Of KISS
Dr. Love's Child by John Jansky.
You Wanted the best is a fan based website ran by Jay Pruitt.
Hotter Than Hell Online - The German KISS Fan Club.
Lynn's KISS Dominion One of the best fan based KISS tribute sites out there.
KISS Army Join the KISS community on this site which has a message board & chat room.
Gene Fantasies run by Mistress Misha.
Ladies of KISS also run by Mistress Misha.
Picks N Sticks the complete KISStory of guitar picks & drumsticks.
Julie's KISS World has a couple of really cool pictures of Ace & Paul without makeup in their younger days holding beer steins.
What's on your mind? a website dedicated to Ace Frehley.
Raven's Roost is a fan fiction website that boasts not only KISS related fan fiction but other genres as well.
The Drummers Of KISS is pretty self explanatory. The webmaster also runs some of the mailing lists.
Bushman Productions sports a wide variety of KISS recordings.
Frehley.net is run by one hot chick in Atlanta. I'm listed as the first November (2002) Men of KISS.
Cat Planet is a brazilian based fan site.
Pyromessiah is a tribute website to Vinnie Vincent.
KISS Related Recordings is the most comprehensive website about, what else, KISS Related Recordings.
Jendell Frehley features information about KISS and Mötley Crüe.
Curt's KISS Page showcases links to other fan sites, discography, member info, farewell tour dates, lyrics and misc photos. Love the "Got Milk" ad.
Any time is KISSintime!
Eulenspeigel's KISS Collector has information about books, toys, photos and more. It's ran by Alexander Zihlmann of Switzerland.
GENE50 is a site (done by KISS Kollector Online) honoring Gene's 50th birthday. It has interviews, pictures, and quotes. It's a real pleasant site.
KISS Tabs is the number one site (IMHO) for all the guitar music for KISS tunes. They're even adding tabs for the bass guitar.
The Official Eric Carr Tribute Page - I visited this site for the first time back in 1996. It is the first KISS website I ever looked at when I got interested in the Internet.
KISS Eye Candy - Not only does this guy run the original KISS webring, he also spends hours designing KISS graphics. All I can say is look for yourself.
KISS Asylum - This site is one of the best sites online that keeps you up to date on the goings on for all the band members past and present. Their site is usually updated every day.
The Kentucky KISS Connection - This site has interviews, Demos and Unreleased stuff, rare imports, Ace and Paul Solo tapes, and much more. Drop by and tell them I sent you.
Hope's Paul Stanley Page - Everything you want to know about Paul, you can probably find here. Best viewed with IE 4 and Java turned on.
In Loving Memory - This is an absolutely marvelous tribute site to the late Eric Carr. Stop by and rate the site.
Kissfreaks.com is ran by Steve Steirwalt, Jr., of Indianapolis, Indiana. This is one of the original Kiss Fan Websites on the Internet, and is by far one of the best.
The Peter Criss Cat Club - Operated by Steve Gerlach, this is the best Peter Criss site on the Internet, period!
Douwe Kroodsma's web page dedicated to KISS and Eric Carr.
Grave of Eric Carr (Paul Caravello) - If you can't visit his grave site in person, at least you can make a virtual visit.
---
If you want your KISS page linked here, send me an email with the URL and a description of your KISS web site.