2003 Evansville KISS Expo Review
by Allen D. Tate
Let me start this review by telling you that the 2003 Expo was WAAAAY more successful than the 2002 Expo.
This year, the event was held at the Evansville Airport Marriott. This place was much nicer than where it was held last year and it accommodated both the event and those who attended in a more professional manner. I WILL be using the Marriott again next year.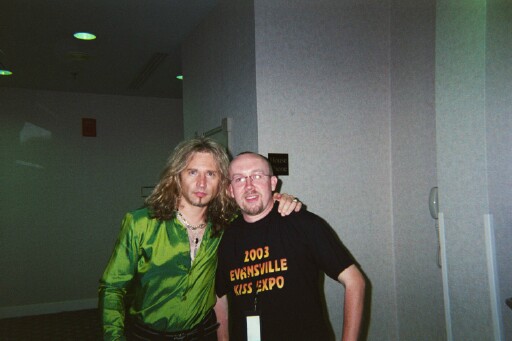 The day started at 10:15 when the VIP pass holders were let in. They swarmed around the merchandise tables and started buying stuff right away. They were leaving the room with sacks full of stuff and taking it to their cars and returning to buy more. This pleased me very much.
At 11:00, the regular ticket holders filed in and did pretty much the same thing. What a sight to see. I'm sure the merchandise vendors were just as happy to see this as I was.
Around noon, I stepped up on stage and welcomed everyone to the expo and let my son draw for the first door prize. The fellow sitting in front of the stage said "PICK ME" and I'll be damned if Ian didn't do just that. I thought that was really funny. Once the door prize was drawn, I setup the video for the Symphony DVD preview. The preview showed Detroit Rock Ciy, Shout It Out Loud, and Black Diamond. We had to mic the TV part of the way into DRC because we could hardly hear it. Once Black Diamond finished, I moved the TV/VCR into a corner and let it play again for those who wanted another look. I think the upcoming DVD is going to KICK ASS!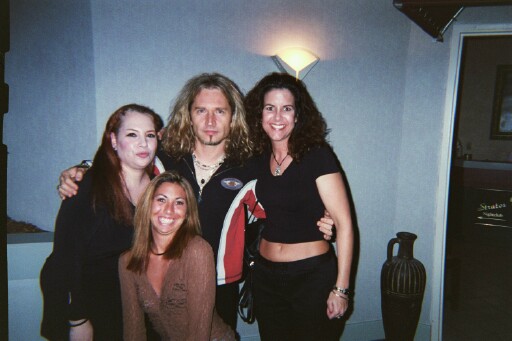 At 1:00, Mike Brandvold took the stage for his Q&A. I started the session by asking Mike how he got involved with the KISS Online website and then I let Mike do his thing. While he talked, I walked around with a microphone so audience members could ask questions. There were good questions asked and Mike did a fine job onstage.
1:30 brought us the Best Tattoo contest. I was surprised that there were as few tattoo contest entries as there were. The best makeup contest also had a lower turnout than I had expected. There were several more people in makeup last year than there were this year.
Eric Singer took the stage at 2:00 for his Q&A and let me tell you, he answered questions in great depth. At one point, Eric said, "I give long answers, don't I?" to the amusement of the crowd. The audience was much more participative this year than they were last year. I was very pleased and so was Eric. Eric also mentioned that he was impressed with the fact that everyone that asked a question introduced themselves before they asked.
The best makeup contest was supposed to start at 2:30 but Eric was still answering questions so it was postponed until the first band finished their set.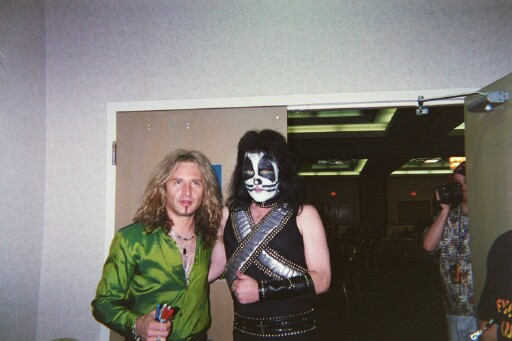 We got Eric started on his photo/autograph session around 3:00 and he signed autographs and posed for pictures with fans for over 3 hours. Eric told me at the end of the day that he really enjoyed the opportunity to take the time to visit with fans, take pictures, joke around, and sign stuff.
Almost Human, a trio from Evansville that didn't don the greasepaint and costumes, took the stage at 3:30 and rocked the house for an awesome 45 minute set. Let me tell you, for some guys that only practiced that set twice, they stole the show. Almost Human was put together less than a week before the Expo by my friend (and fellow KISS junkie) Mike Fisher, singer and guitar player for Vegas Radio.
Once they left the stage, the best makeup contest got started. Since there were only two female contestants and they were both children, they both won. There were only three male contestants so I awarded first, second, and third place prizes.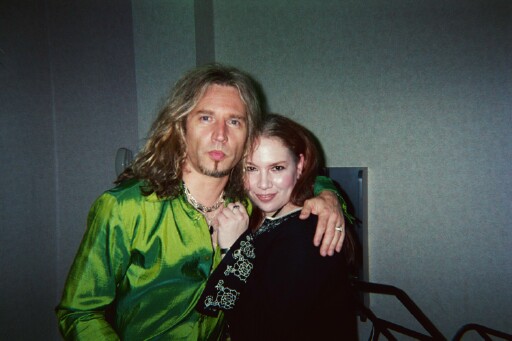 Strutter was supposed to take the stage at 5:00, but were delayed a bit because Strutter's Paul had issues with his guitar. Fortunately for Strutter (and me), Almost Human's Mike Fisher loaned him his flying V guitar for the night's performance. I send a special thanks to Mike's wife, Bobbie, for running home and getting that guitar very quickly.
At the end of the day, I could say that I was very pleased with the days events. I would like to thank Eric Singer, Mike Brandvold, Almost Human, Strutter, all the merchandise dealers, Pro Audio Services, the staff of the Marriott, WABX, WKTG, Bob McNeely, Ron, Tammy, Ty, & Alix Mattingly, Sheila Peak, Olivia Watson, and Laura & Ian Tate for helping me make this event successful.